Howard G. Buffett is a farmer, photographer, businessman, sworn law enforcement officer, former elected official and Chairman and CEO of the Howard G. Buffett Foundation, one of the largest private charitable foundations in the United States. The Foundation invests primarily in global food security, conflict mitigation and public safety.
Mr. Buffett manages a 1,500-acre family farm in central Illinois and operates a 400-acre farm in Nebraska. He oversees multiple Foundation-operated research farms in Arizona, Illinois, and Nebraska totaling 9,500 acres. He oversees two ranches in Arizona, and one farm in Texas, which are adjacent to the U.S./Mexico border.
Mr. Buffett served as Sheriff of Macon County, Illinois from September 2017 through November 2018 after serving as an Auxiliary Deputy for five years in Macon County and Shelby County in Illinois. He currently serves as Undersheriff of the Christian County Sheriff's Office in Illinois and is a Volunteer Deputy in Cochise County, Arizona.
Mr. Buffett currently serves on the corporate board of Berkshire Hathaway, Inc. and has served on a number of Fortune 500 boards. He has held several senior corporate executive positions; he was elected to serve as a Commissioner on the Douglas County Board in Nebraska from 1989-1992; and he served 20 years on the Commission on Presidential Debates.
He has been honored over the years for his leadership and contributions to agriculture, conservation, philanthropy, and journalism, including receiving the highest honors bestowed on a foreign citizen by the governments of Mexico, Colombia, El Salvador and Rwanda for his work in each country.
Mr. Buffett has traveled to over 150 countries and authored eight books on conservation, wildlife, and the human condition, including two New York Times bestsellers, 40 Chances: Finding Hope in a Hungry World and Our 50-State Border Crisis: How the Mexican Border Fuels the Drug Epidemic Across America. He is the executive producer of Virunga, an award-winning and Academy Award-nominated documentary about Africa's oldest national park, and The River and the Wall, a documentary focused on the impact of a physical border wall on the Texas-Mexico border region. Link to HGBF
More on the foundation's website.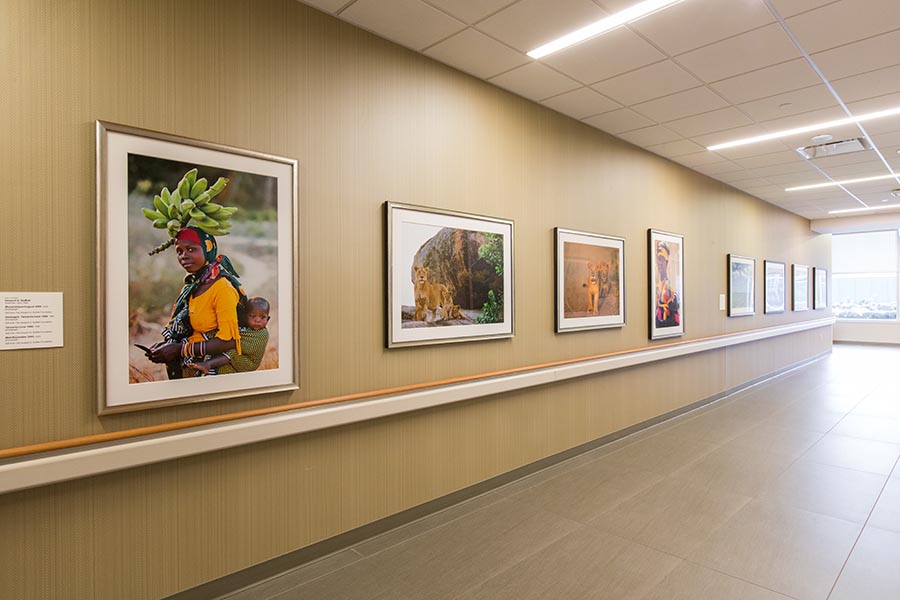 This hallway features 22 powerful photographs by Howard G. Buffett, many of which come from his 40 Chances series documenting agriculture, conservation and wildlife around the world.