Located on level one of the Fred & Pamela Buffett Cancer Center, the Art Gallery features two exhibitions each year, showcasing exhibitions of national and local artists. The gallery enriches, inspires and enlivens UNMC/Nebraska Medicine patients, visitors, employees and community. The intention is to exhibit work that is of the highest artistic quality and reflects a rich diversity of media, creators, cultures and perspectives. Exhibitions support the healing environment of the hospital by providing guests with inspiring images, enhancing the compassionate care that UNMC/Nebraska Medicine provides. Each exhibition has a "Meet the Artist" event and reception for patients, staff and the community. Artist talks provide the opportunity to gain insight about the art and foster personal introspection on the artistic process and its impact on health and wellness.
Current Exhibition
Andrew Peters: Moments of Discovery
March 24, 2023 to September 25, 2023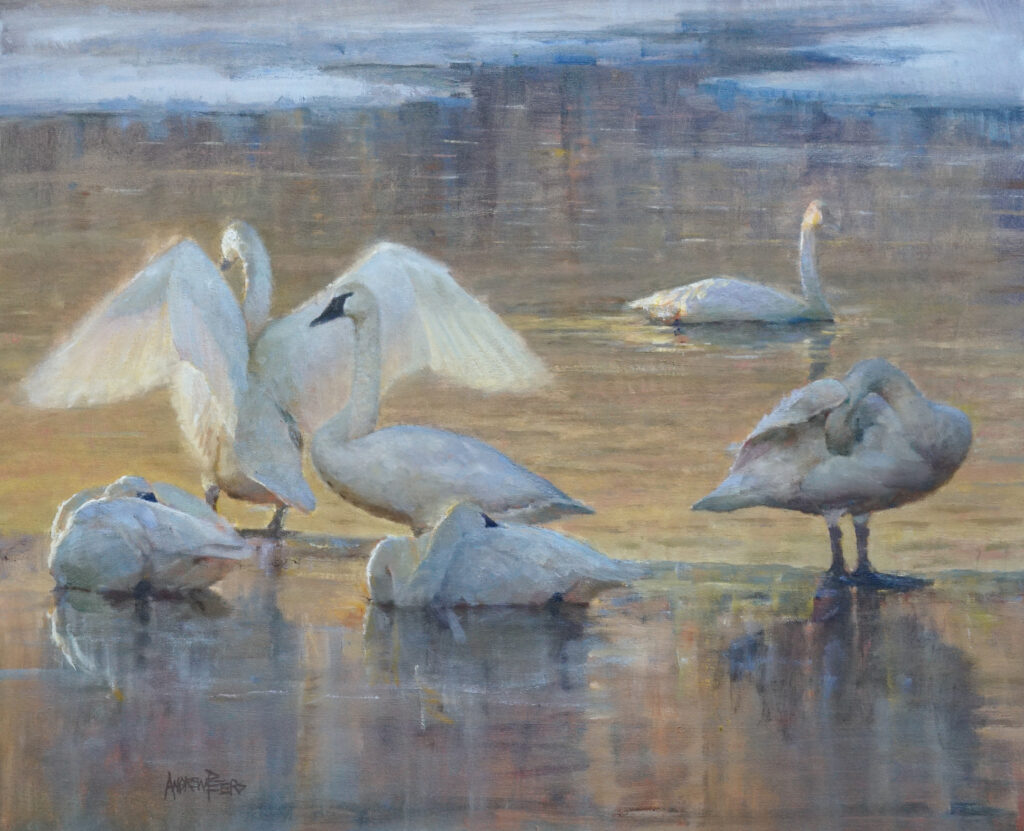 Andrew Peters grew up immersed in nature in Council Bluffs, Iowa, where he often went hunting and fishing with his father in the Missouri River Valley. As a young student, Peters was inspired by the accuracy and beauty of Karl Bodmer's watercolors of the American wilderness at Joslyn Art Museum, and he was mentored in ecology at Fontenelle Forest Nature Center by naturalist James Malkowski. These early experiences kindled his passion for travel and drawing nature from life. Peters earned a Bachelor of Science degree in wildlife biology from Iowa State University and began a freelance career painting birds. Then he pursued wider horizons.
Sketching across Africa for a year led to major paintings of game animals and indigenous people. During an overland trek through South America, he lived in Cusco, Peru, painting among the Quechua and Aymara people in the Valley of the Inca. In Florence, Italy, he completed seven large canvases while studying the painters of the Ottocento. For 10 years he lived in Santa Fe, New Mexico, working out of a modified pickup truck, he made hundreds of paintings while on the move, to capture the fleeting effects of light and how it determines form.
Peters' paintings have been exhibited in the Cincinnati Museum Center, Autry Museum, National Museum of Wildlife Art, Joslyn Art Museum, and National Cowboy Museum. Most recently, he was awarded the Pittman Wildlife Award at Prix de West 2020 for his Trumpeter Swan painting, Pleistocene Messengers.
Learn more about Andrew Peters at: 
www.andrewpetersart.com