Located on level one of the Fred & Pamela Buffett Cancer Center, the Art Gallery features two exhibitions each year, showcasing exhibitions of national and local artists. The gallery enriches, inspires and enlivens UNMC/Nebraska Medicine patients, visitors, employees and community. The intention is to exhibit work that is of the highest artistic quality and reflects a rich diversity of media, creators, cultures and perspectives. Exhibitions support the healing environment of the hospital by providing guests with inspiring images, enhancing the compassionate care that UNMC/Nebraska Medicine provides. Each exhibition has a "Meet the Artist" event and reception for patients, staff and the community. Artist talks provide the opportunity to gain insight about the art and foster personal introspection on the artistic process and its impact on health and wellness.
Current Exhibition
Inspiration: Selections from Modern Arts Midtown
October 13, 2023 to April 15, 2024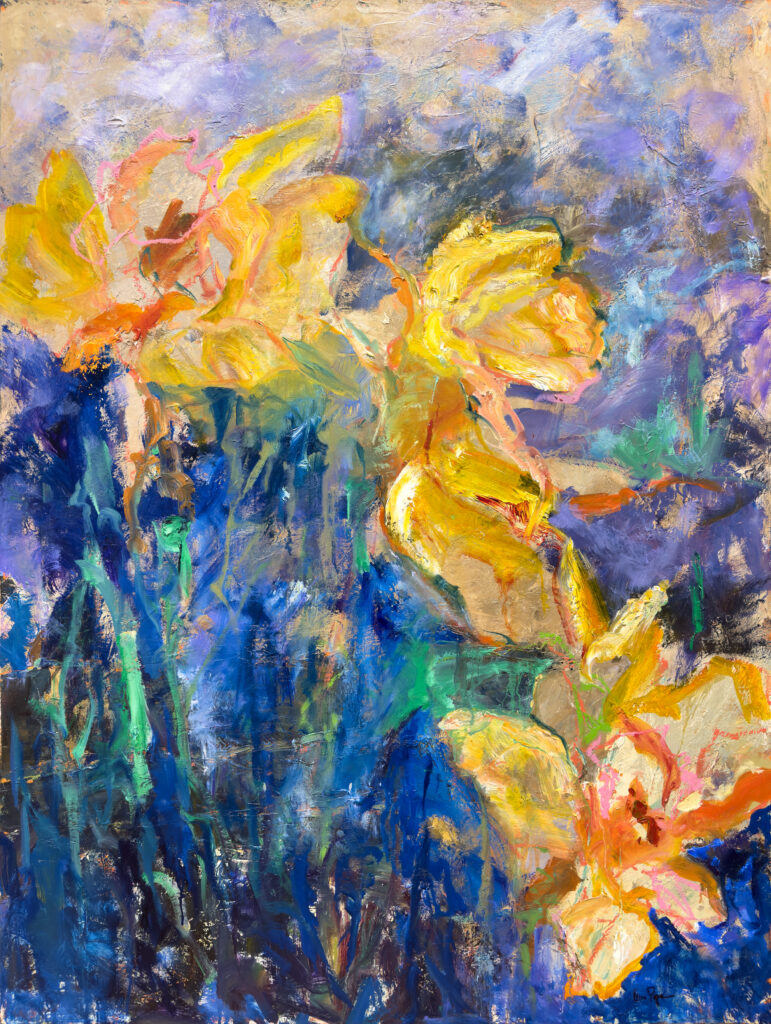 Modern Arts Midtown (MAM), is a contemporary fine art gallery located in midtown Omaha, featuring a variety of distinctive artworks by local and regional artists. MAM takes pride in offering an extensive collection of abstract and traditional art, including painting, sculpture, photography, textiles and more. Their goal is to provide a bridge between the spirit of the artist and that of the viewer.
Inspiration highlights the work of seven Nebraska artists. The artists featured in this exhibition include Mads Anderson, Stephen Dinsmore, Jennifer Homan, Michael James, Jacqueline Kluver, Ann Pape, and Larry Roots. The inspirations of these artists include light, nature and emotion, which they depict realistically or expressively. Each work captivates the viewer with its color and texture.
The layered constructions of Michael James and Jacqueline Kluver combine shapes and patterns to create depth and richness in the expanse. Stephen Dinsmore and Jennifer Homan embrace the landscape, Dinsmore with his brilliant and emotional use of color and Homan with her amazing skies. Similarly, Ann Pape's impasto combines the real with the expressive in forming floral designs. The tactile lines of Mads Anderson and Larry Roots engage color to encourage contemplation and reflection. Together, the vibrant colors and alluring compositions create a visual conversation, bringing inspiration and healing to the viewer.
Learn more about these artists and Modern Arts Midtown at: 
www.modernartsmidtown.com