Mary Zicafoose's tapestries and rugs span the globe from large-scale public installations to the private collections of the United States Embassies on three continents. Her woven pieces blend cultural icons and symbols with a contemporary hand, creating powerful visual statements in fiber. The work and processes are a reflection of the artists' superb craftsmanship and her ability to speak articulately through the use of color.
I am an ikat tapestry weaver. My fascination with pattern and indigenous cloth began as a child, with a scrap of Indonesian fabric given to me by a traveling aunt. After many formative years of art schooling and teaching, I somewhat surprisingly found myself behind a loom. I have spent the last three decades in pursuit of visual surprise on the flat woven "rug" surface, through dye processes, tapestry techniques and intriguing color play. Weaving is a personal vernacular that speaks about my unabashed use of color and the power of symbols.
Ms. Zicafoose has worked, traveled and taught throughout the Americas. A largely self taught weaver, she received her BFA from St. Mary's College, Notre Dame, Indiana. Her graduate Studies include the Art Institute of Chicago and the University of Nebraska. She credits her courage at the dye pot to the influence of painter Mark Rothko and her designs to every textile she has seen and touched.
She currently maintains a fiber studio in Omaha, Nebraska, and is constructing a new home and studio on her historic property, Pahuk, on the Platte River.
More on the artist's website.
In The Healing Tapestry and The Hope Tapestry, Mary Zicafoose ties the words hope and healing in multiple languages together through the binding of fibers, figuratively connecting individuals of all backgrounds in their aspirations and fears relating to their cancer treatment.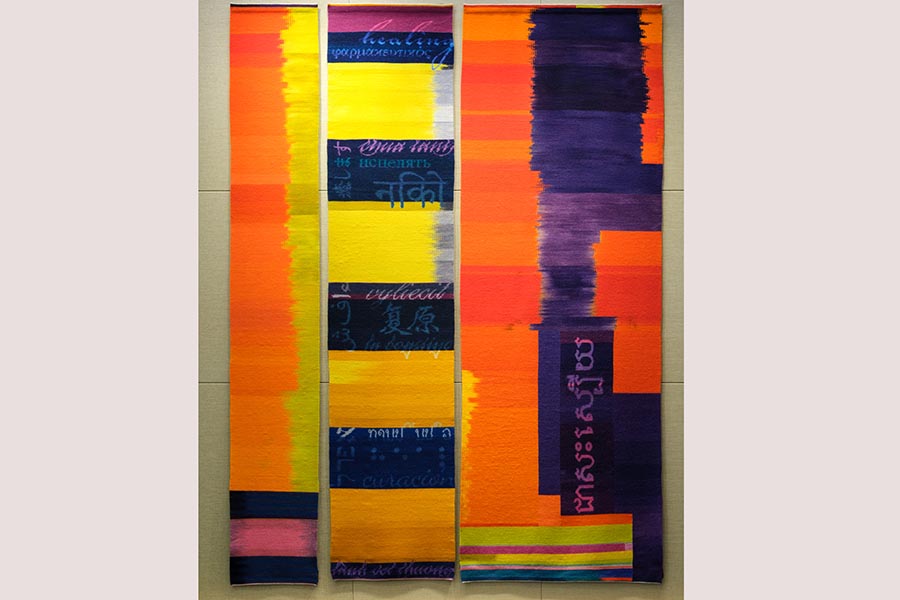 In The Healing Tapestry and The Hope Tapestry, Mary Zicafoose ties the words hope and healing in multiple languages together through the binding of fibers, figuratively connecting individuals of all backgrounds in their aspirations and fears relating to their cancer treatment.