Suzy Taekyung Kim was born in Daegu, South Korea and holds a Bachelor of Fine Arts from Emily Carr University of Art and Design and a Bachelor of Education from University of British Columbia. She graduated from New York University (NYU) with a Master of Arts in Art Education. She is the recipient of several national and international awards including the Scholarship for North American Scholars.
Her works can be found in a select number of private and corporate collections in Canada, Great Britain, South Korea and the United Arab Emirates. In 2016, she completed a permanent public art commission awarded from the New York City (NYC) Department of Cultural Affairs, Percent for Art Program in collaboration with the NYC School Construction Authority.
Currently residing in NYC, Suzy continues to paint at her studio.  She draws upon the experience of transforming the banal and attempts to find beauty in the everyday experience.  Weaving together a wide range of mediums such as glass mirrors, mica, and genuine gold leafing, her assemblages evoke elements of foliage and explosion filled with intense positive energy.  Through the use of lush, fluorescent colors in multiple layers, she attempts to create a dreaming space that provides an uplifting visual interaction.
More on the artist's website.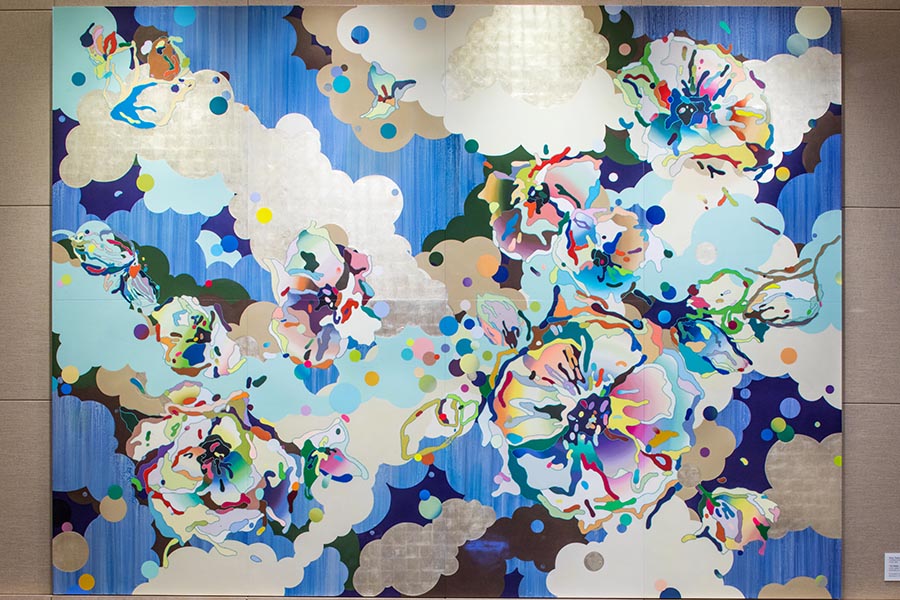 The Waltz by Suzy Taekyung Kim is a multi-layered painting that facilitates a sense of healing and refuge. Spontaneous pops of color are used to convey joy and vitality.